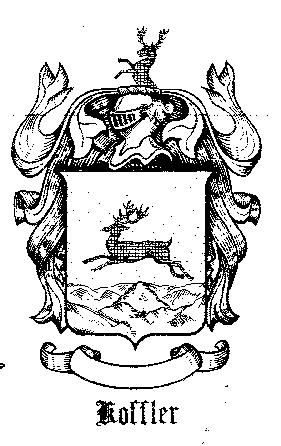 The Koffler Coat of Arms was recorded without a motto
Heraldic artists of old developed their own unique language to describe an individual Coat of Arms. In their language, the Arms (shield) is as follows:
"D'or a un cerf elance de sa., soutenu d'une terrasse racheuse d'arg."
When translated the Arms description is:
"Gold: a black stag leaping on a silver terrace of rocks."
Above the shield and helmut is the Crest which is described as:
"Le cerf iss."
A translation of the Crest description is:
"The stag issuing."
This coat of arms was researched by Halbert's, a company no longer in business. My dad received this report in 1972 along with some company research. In 1972, the source indicated there were about 250 heads of households with the Koffler surname with approximately 775 people carrying the Koffler name in the United States. The company claims its research comes from
Rietstap Armorial
(the heraldry bible for genealogical research); however, it should be viewed with caution until more independent study is done to confirm these findings based on Koffler historiography. An updated edition of Rietstap Armorial was available in 2004.