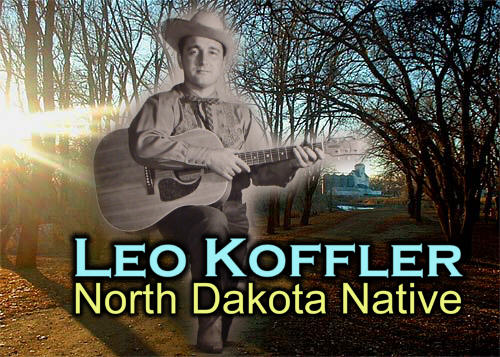 Leo David Koffler was born in the small farming community of Amidon, Slope County, North Dakota on March 1, 1924. Leo was brought into this world by a midwife as there were no hospital facilities to serve that area in those days. The oldest of a family of three boys, he endured a tough upbringing through the Depression era years, and proved to be an outstanding student in nearby Marmarth High School in an area known to have ancient fossils. A veteran, he served his country as an electronics technician in the U.S. Army Air Corps in Biloxi, Mississippi. He worked on aircraft radio equipment. After the war, in 1947, the Army Air Corps would become Keesler Air Force Base, a technical training base for the U.S. Air Force. In the post war years, he had a long career with the transportation industry as Station and Freight Manager for the Chicago, Milwaukee, St. Paul & Pacific Railroad in Winifred, Montana from about 1946 - 1950, followed by a short period as a baker, and then on to a long career with the Union Pacific Railroad at the Hinkle Train Switching facility near Hermiston, Oregon. There, he served in the capacity as microwave technician/wire chief until about 1981.

Leo Wins 1953 Major Bowes Amateur Contest
In 1953, Leo traveled to Salem, Oregon, where he competed with other amateur musicians in various forms of entertainment. Those who passed an initial screening were invited to compete on the program. Winners were determined by viewers who voted via letters and phone calls, and winning contestants returned to compete against a crop of new talent on the next program. Contestants who won three times earned cash prizes or parts in a traveling stage show associated with the program. In the early 50s, five such shows toured the country. Leo was offered a "job" touring with the stage show, but turned it down because the starting pay was too low. While most contestants fell into obscurity, others became major stars like Gladys Knight, Pat Boone, Teresa Brewer, and Frank Sinata. Back home in Stanfield, Oregon, Leo often entertained patrons at the Jesse James Club, but eventually had to discontinue this due to the demands of raising five young children in rural Eastern Oregon.
Leo could play a variety of county & western, middle of the road, and classical melodies without sheet music. In 1940s he, along with brother Lyle, performed live country music regularly at KRJF, a Miles City, Montana mutual radio station. During the war years the station featured local live acts entertaining area residents with their 250 watt omnidirectional signal. Leo and his brother were known as the "The Twilight Boys". Lyle remembers being able to "break glass" with their harmonizing.
Leo also enjoyed repairing musical instruments. (He purchased a player piano in the early 60s and completely refurbished it by gutting the insides and replacing plastic tubing. The piano provided many years of enjoyment for the Koffler family.