Dakota Sheep Ranchers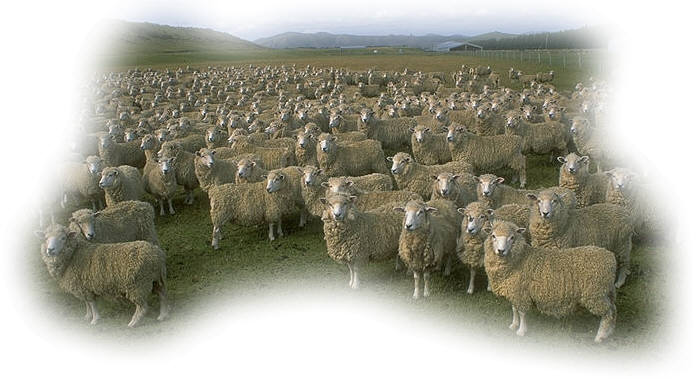 Koffler history is detailed in the following account written by the late Lyle J. Koffler. With some apprehension, and a great amount of hope, George and Anna Koffler waited on a dock in Antwerp, Belgium, to board an immigrant ship that was bound for America. At this point in time the family consisted of Nick, Adam, and Katy Messer, children of the widowed Anna Messer, and infant Josephine, first of the Koffler children. This voyage meant the final severing of a culture that could be traced back to the plateaus of the Bavarian Alps. George Koffler's brother-in-law, Peter Braun, had left the continent and established himself in the Dickinson area a decade previous. Peter Braun was a land agent for the Northern Pacific Railroad Company and a skilled entrepreneur. It may have been his penned portrayal of great promise that coaxed George Koffler to leave the land of his fathers, and seek a new life in America. Ranching, more than farming, appealed to George Koffler's pastoral interests.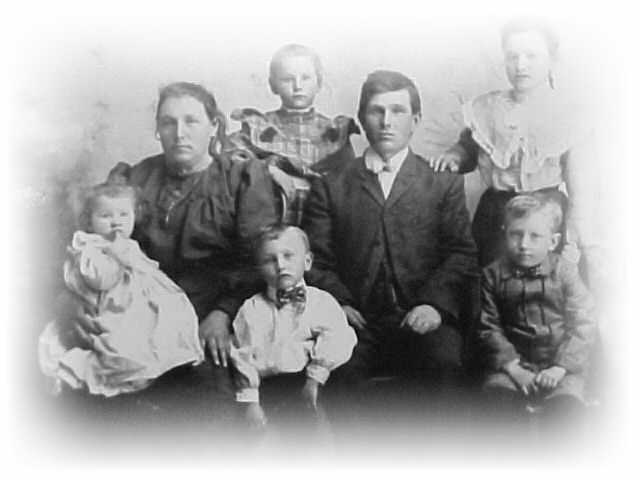 George Koffler Family About 1906 or 1907
With many contiguous acres to his homestead unclaimed, he concentrated his efforts on sheep ranching. His herds ranged from two to four thousand head until settlers arrived and claimed the land on which he grazed his herds. At this point in history it is interesting to note what constituted a notion of fairness. George Koffler's brother-in-law, Peter Braun was an enterprising, and wealthy man by standards of that time. He owned many thousands of sheep which he placed out of town on shares which were scattered between the Cannon Ball River and Montana territory. The first of George Koffler's herd were animals held in share from this source. Terms of the share ruled that the initial herd would remain the property of the owner, but the increments would be split down the middle. However, should disease, predators, or acts of God diminish the initial herd, all increases would be added until the number of the initial herd was brought back up to strength. Only those who numbered beyond this would qualify for the increase split. In those days, a sheep ready for the slaughter market brought an average price of one dollar.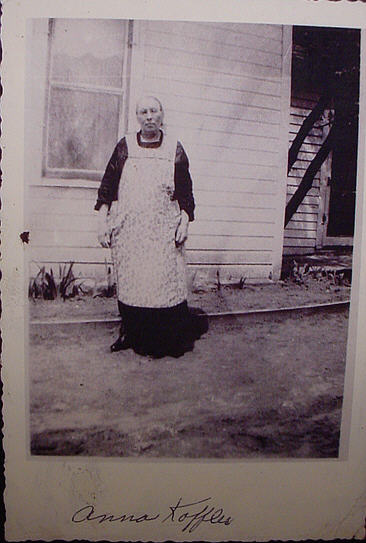 Anna (Braun) Koffler, Circa 1940
In January 1900, the George Koffler family arrived in Dickinson, North Dakota where decisions were made that finally established them in Slope County. When the weather warmed, George Koffler and his family traveled southwest where a source of water was located on unoccupied land in Slope County. At this location, a "squatter" type of ranching operation lasted for two years. When George Koffler learned that homestead land was available in what is now Slope County, he terminated his ranching activities at Antelope Creek, and moved his family fourteen miles southwest of Amidon. There, he filed a homestead entry claim with the United States Land Office for a quarter section of land that contained a water spring in a township known as Sand Creek on June 29, 1902. The area, SE 1/4 34-134-100, was surrounded by a large area of virgin grass. George then employed an immigrant stone mason to gather native stone and build a four room house on the knoll above the spring. The contract to build the entire house was for sixty dollars. By this time another member was added to the Koffler family. Peter, the eldest son had been born and would eventually purchase and operate the property until his retirement in the late 1940s.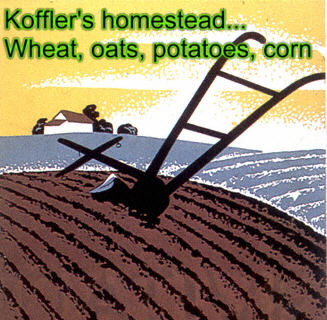 After the settlers swarmed in and claimed the extra homestead land, George Koffler purchased additional land which was eventually traded with a railroad company for another parcel of land originally intended for railroad use, but had been abandoned when the railroad decided not to lay rail there. In 1903, his second son, Raphael "Ray" was born followed by his last child, Monica, in 1906. Loving this piece of earth he called his own, he wanted full responsibility of citizenship. Medora, North Dakota, located about sixty miles north and west of his homestead was the nearest location where a circuit judge could perform the requirement of citizenship. Lack of roads, language problems, and primitive transportation methods did not deter George. In 1906, George and Anna Koffler became American citizens. The Kofflers had been in America for less than twenty years now, and barring the death of two infant sons Jacob and Johannes, things were developing just as he had hoped for. He held title to land, owned machinery, livestock, and had a growing family. But, the flu epidemic of 1918 was to terminate his life. November 18, 1918, while confined to his bed with flu, he asked his wife Anna for a pan of warm water. When she returned with the water, he had passed away. George is interred at St. Joseph's Cemetery, Stark County, Dickinson, North Dakota. George's wife, Anna remained on the homestead until the twilight years of her life until making her last home with her daughter, Josephine in Dickinson where she expired May 20, 1943. The Koffler's oldest son, Peter Clemens Koffler continued to operate the ranch until 1949 when he moved into the city of Bowman into a small house.
| | | |
| --- | --- | --- |
| | | |
Copyright © 2002 Michael W. Koffler. All Rights Reserved. Stories on this page are © 1976 Lyle J. Koffler. All Rights Reserved.
---