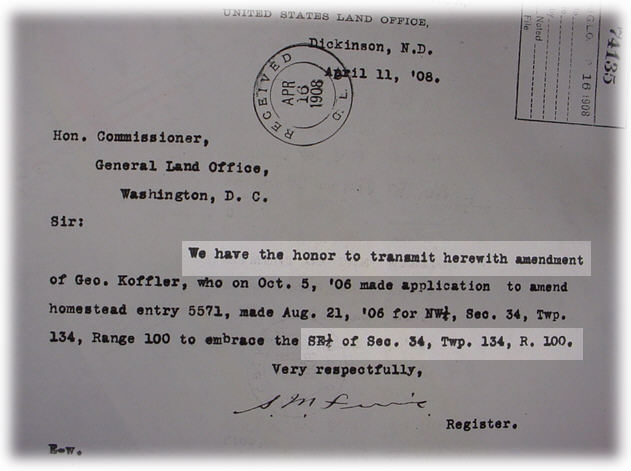 U.S. Land Office amendment letter
On August 31, 1900, George Koffler first made application for a Homestead Entry for the Southeast Quarter (SE1/4) of Section 2, in Township 137 North of Range 97 West of the 5th P.M. He rode over the entire tract with Christ Badinger who assured him that the land was fit for farming purposes, so he purchased all the improvements on the land from Mr. Badinger.
Short of stature at 5' 4", the blue-eyed light haired German immigrant came to America in July 1900. George Koffler could not read nor write the English language and was unaware of land markings later learning that his new land was too stony and unfit for farming purposes. He was at a disadvantage because he could not read plat maps nor was he familiar with the land in southwestern North Dakota. He told the U.S. Land Office Commisioner that he looked at the township plat from the North instead of the South; that he pointed at the top left hand Quarter of said Section 34, and the person who made out the papers, assuming that he had described the said quarter correctly, looking at it from the south, assumed it to be the Northwest quarter, and the papers were prepared accordingly. But, George never intended to file upon the Northwest quarter. He had always intended to file on the Southeast Quarter of Section 34, Township 134 North, Range 100 West.
George's brother-in-law, Peter Braun, informed George that his Homestead Entry papers had actually called for the Northwest Quarter of Section 34, Township 134 North of Range 100 West of the 5th P.M. instead of the Southeast Quarter. George first applied to the U.S. Land Office for an abandonment of his first claim on May 23, 1902. The following July 1903, he settled on his new claim which was entirely suitable for farming and ranching. Over the next six years, the Department of the Interior's Land Office filed various papers concerning the error. On August 21, 1906, the Department of the Interior's U.S. Land Office issued George a Homestead Entry Final Proof in which George stated he was 37 years old and using Hume, North Dakota as his postal address. He also stated he had planted corn, wheat, oats, and potatoes for six seasons with about 50 acres broken and under cultivation. George Koffler employed an immigrant stone mason to erect a stone house 30 X 16 feet with a 12 X 16 foot stone kitchen with board floor and shingle roof attached to it. Other improvements included a stone barn about 16 X 60 feet; framed sheep barn, 30 X 50 feet; stone chicken house; stone hog pen; framed granary, 12 X 16 feet; framed coal shed, 14 X 16 feet; well, 15 feet deep with the entire claim fenced with 2 strand barbed wire. Total value of improvements claimed was $1,500.00. The balance of George's land (about 110 acres), was used for grazing of 800 sheep on shares, 400 of which were his, 5 head of cattle, 10 head of horses, and 6 hogs.
George Koffler's application to amend homestead entry 5571 was finally transmitted in an official document dated April 11, 1908. The U.S. Land Office recognized George had made an honest mistake and afforded him every opportunity under the law to amend his original claim.