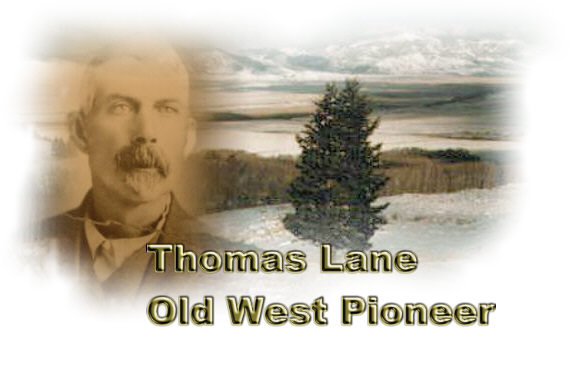 Lane history has its roots in Ireland, and, most recently in Montana. Read the following account of my great grandfather.
Thomas and his father, Patrick, came to America in May or July of 1881 or 1882. They came to the Willow Creek country by stage from Melrose, Beaverhead County, Montana. Their passage to America was paid for by money sent home to Ireland by Uncle Mike and Uncle Pat, and by money saved from the earnings of two brothers who worked in the shipyards in England.
Thomas worked for the established ranchers in the Three Forks valley and saved what money he could so that one day he could own his own ranch. Thomas and his brothers soon earned a well deserved reputation as good and willing workers. They successfully irrigated crops even though they had never seen an irrigation ditch before.
It is not known how Ellen Dempsey, his wife, entered his life. The accepted date of her birth is August 20, 1862. One set of records show Ellen as being born in County Galway, Ireland (no name of a town or village). Another records says she was born in Dublin, Ireland. It is known that she came to America as a young girl and resided in New York for some seven years before going on to Montana. None of her grandchildren were ever told any details of her life in Ireland, New York, or what the circumstances were that brought her to Montana. She did not have any brothers or sisters or relatives in Montana.
In Bozeman, at Holy Rosary Church, May 5, 1891, Ellen Dempsey of Three Forks, daughter of Patrick and Ann Concannon Dempsey, became the bride of Thomas B. Lane of Three Forks, sone of Patrick and Sabina Garraughty Lane. The witnesses to their marriage were John D. Belin and Margaret Lane (Maggie, Mrs. Jim Donahue).
Their first known home was east of the Burlington Northern tracks along what is known today as Shirringa Lane. It may not have been far away from the old Shirringa house which is still standing (as of September 9, 1982). They eventually bought the ranch which is presently owned by their grandson, Robert (Bob) D. Lane. This ranch is located five miles from Three Forks on the road (Yellowstone Trail) to Willow Creek. The log house (later frame sided) is still standing but has been unused since December, 1972.
Thomas and Ellen had six children. Bina, February 19, 1892; Mary, April 16, 1893; Emmett, October 18, 1896; John C., May 27, 1898; George, July 10, 1900. One female child died in infancy and was buried near the home Thomas and Ellen had on Shirringa Lane. The dates of the birth and death of this baby are unknown.
In farming the 320 acres of his ranch, Thomas raised hay and the usual grain crops. He did run a few cattle which he branded with the TL brand. Ranching and farming in those days was a tough proposition at best since all the farm machines were pulled by horses. The days were long, the work was hard and prices were rarely favorable.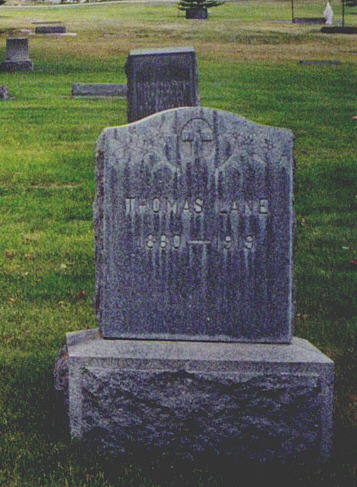 Thomas B. Lane, 1860 - 1919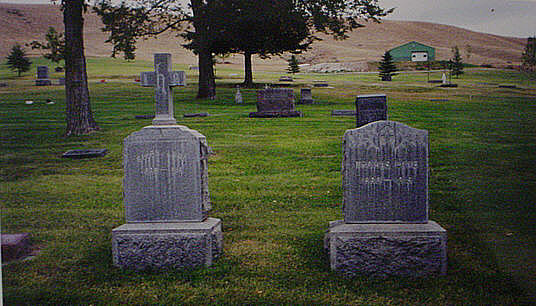 Thomas B. Lane & Ellen Dempsey Lane
Ellen Dempsey Lane died at age 54 on November 25, 1916 at home. The cause of death was a paralytic stroke. Her funeral mass was at Holy Family Church, Three Forks, on November 27, 1916. Her pallbearers were: William Buttleman, Sr., John Callaghan, James Lane, Otto Vogel, John Murray, and William Buttleman, Jr.
Thomas B. Lane died at age 59 on Friday morning, December 5, 1919, following attack of the "infamous" 1919 flu. His funeral mass was at Holy Family Church, Three Forks, on Monday, December 8, 1919. His pallbearers were six of his nephews: Mack, Edward (Ted), John (Jack), Michael F., James and Fred Lane.