Leo and I had a radio show over KRJF. When we first auditioned, the station manager said "Koffler" was too difficult. Our theme song was "My Old Pal of Yesterday" and starts out [AT TWILIGHT WHEN THE SHADOWS ARE FALLING...] We went on the air about 7:15 p.m about twilight time. I suggested the name to the manager and he liked it! Most people thought we were Leo and Lyle Twilight! In addition to our radio show we did a number of personal appearances for groups that ranged from the Milwaukee Women's Club to the Moose organization. We were invited virtually everywhere, that is, people wanted us at their parties, and would then expect free entertainment from us. We enjoyed great popularity and frequently made the social columns in the Miles City Star. Really sorry that no one kept the clippings. At the time I was attending Telegraph school, and finally went to work as did Leo who was between employment for the NP and Milwaukee Railroad.

To this day I still remember the excitement of being in the studio watching for the "on the air" sign to turn red, and we would start the theme song, and the fans would come from behind the broadcasting glass of the studio and flock around us after the show. Such attention is quite infectious and is so motivating and stimulating. But then at age 16 and 19 just coming out of the sage of the North Dakota Badlands and no one to guide and manage our career, our star just burned out without knowing where to go.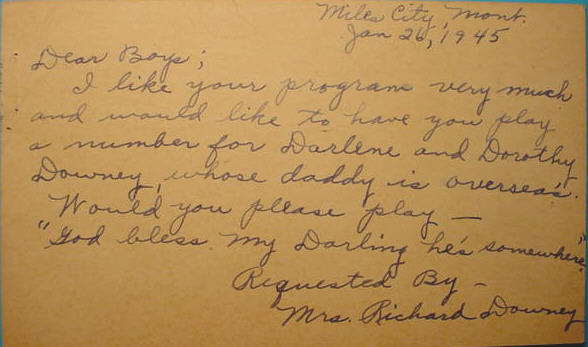 The Twilight Boys helped keep morale strong for loved ones during the war.
Click below to see the lyrics
Cowboy Jack was a favorite song of Leo & Lyle
Leo and Lyle Koffler were regularly featured in the social columns of the Miles City Star.
Theme Song of Twilight Boys
At twilight when the shadows are falling,
At the close of a long, dreary day
I fancy I hear a voice calling
It's my old pal of yesterday.

Old pal I'm so blue since you left me
Life's been a burden to bear
I wonder old pal do you miss me
I wonder if you still care

Does your memory stray
To our yesterday
And picture two hearts, that are light and gay
Won't you come back, for I still love you
My old pal of yesterday.